The world of fitness and exercise has been fundamentally changed by the pandemic. People are doing more workouts at home, purchasing home gym equipment, and relying more than ever on remote fitness coaching.
The E-Commerce Times caught up with insiders from the health and wellness industry for perspective on how the population is staying active at home.
"The pandemic has greatly affected the way people are exercising," Brent Hartman, president of B3 Personal Training, explained to the E-Commerce Times. "In the beginning, when gyms were shut down, everyone was rushing to purchase equipment for their home gym. It's almost as if everyone has a home gym set up at home.
"The pandemic also forced a switch to virtual or online workout options. Classes were all done online. Personal training was done with Zoom or Skype. Peloton and Mirror sales skyrocketed. All of these options were able to be done with everyone's home gyms."
Exercise by Design

Designing a home gym space is a kind of art, involving both a sense of interior design and an understanding of what space and equipment will best serve one's needs.
"A home gym should never appear sterile or static," Bryan Green, founder and CEO of Aktiv Solutions, explained to the E-Commerce Times. "It's important to integrate functional fitness equipment and the aesthetic fundamentals of interior design during your planning for optimal motivation.
"Consider for the designated area or room conversion the following: lighting, wall colors, floor coverings and other environmental embellishments for an inspirational and aesthetically pleasing space that compliments your home. Consider how your home gym space will evolve and change as your exercise preferences may grow or modify over time."
Creating a home gym is, after all, a kind of interior design.
"In designing a great home gym, the problem to solve is not in finding equipment, but rather in creating functional space," said Green. "Just as with your kitchen, there are no shortages of appliances. How those appliances come together to accommodate the wide range of choices within the confines of more limited space is the value of smart planning and design.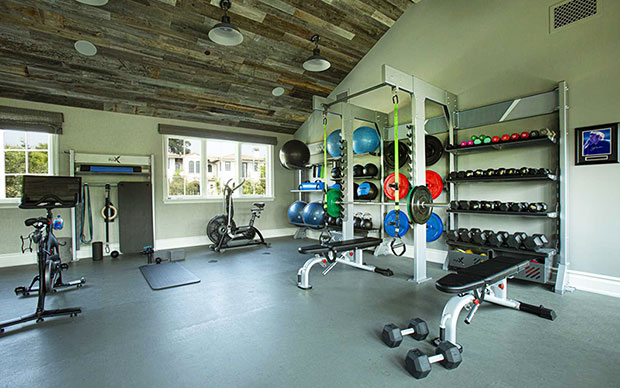 Family Home Gym Design [Credit: Fitness Design Group]
"Foundationally, we focus on reverse engineering the environment around how our clients and their families want to train and move in the space. This begins with recognizing the footprint."
It's important, as well, to consider storage space when designing a home gym.
"Home gyms require smart storage solutions and need to accommodate smaller footprints," said Green. "The last thing you want is to find yourself tripping over equipment. Smart use of space and storage is critical."
Holistic Approach

Ultimately, creating a home gym space can lead to thinking more broadly about designing for a sense of wellness and overall health.
"Beyond just buying up equipment, we've experienced a massive uptick in clients who are interested in taking a holistic approach to creating permanent wellness space within their homes," said Green. "Our home gym design division has been inundated with helping plan
…
Read more