Prehospital plasma, administered soon after injury, appears to improve survival for patients with traumatic brain injury (TBI), results of a new analysis suggest.
Administration of prehospital plasma demonstrated a strong survival benefit and was associated with a 45% lower risk for mortality in TBI patients, Danielle S. Gruen, PhD, and colleagues write in their report, published online October 15 in JAMA Network Open.
The finding is from a post hoc secondary analysis of a prespecified subgroup from the Prehospital Air Medical Plasma (PAMPer) randomized clinical trial, published in 2018 in The New England Journal of Medicine.
PAMPer studied the safety and efficacy of prehospital administration of thawed plasma in injured patients at risk for hemorrhagic shock. It included 501 patients; 230 received prehospital plasma, and 271 received standard-care resuscitation that did not include prehospital plasma administration.
Results showed that mortality at 30 days, the trial's primary endpoint, was significantly lower in the plasma group than in the standard-care group (23.2% vs 33.0%; P = .03).
The current analysis explored the association between prehospital plasma resuscitation and survival in a subgroup of 166 patients with TBI. Of these, 74 patients received prehospital plasma, and 92 received standard care.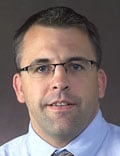 "If you give prehospital plasma to injured patients, there is a survival benefit, as PAMPer showed, and the current study demonstrates that the signal is strongest in patients who have traumatic brain injury," senior author Jason L. Sperry, MD, MPH, professor of surgery and critical care, University of Pittsburgh Medical Center, Pittsburgh, Pennsylvania, told Medscape Medical News.
"We think that giving plasma as soon as possible improves survival via several mechanisms," he said. "These include volume expansion to restore perfusion, an alteration in the inflammatory response, a reduction in endothelial injury, and the prevention or mitigation of coagulopathy."
The median age of the patients with TBI was 43 years (range, 25 – 60 years). Brain injury was shown on CT imaging. Most patients with TBI were men (n = 125, 75.3%), and all had blunt trauma injuries. The median Injury Severity Score was 29 (interquartile range [IQR], 22 – 38).
Patients with TBI were more severely injured than those without TBI, and the incidence of prehospital intubation was higher for those patients. In addition, they were more likely to receive in-hospital vasopressors, the length of stay in the intensive care unit was longer, they spent more days on mechanical ventilation, and 24-hour mortality rates (P = .001) and 30-day mortality rates (P = < .001) were higher.
Except for the plasma intervention, there were no significant differences in fluid administration during transport to the hospital. However, in-hospital transfusion requirements differed between the two groups. Patients with TBI who were treated with prehospital plasma received less crystalloid fluid, vasopressors, and packed red blood cells in the first 24 hours.
In addition, for patients with TBI who received prehospital plasma, international normalized ratios were lower (median, 1.20 [IQR, 1.10 – 1.40] vs 1.40 [IQR 1.20 – 1.80]).
…
Read more