Editor's note: Find the latest COVID-19 news and guidance in Medscape's Coronavirus Resource Center.
A small subset of SARS-CoV-2 patients with "COVID toes" can be categorized as COVID long-haulers, with skin symptoms sometimes enduring for more than 150 days, a new analysis revealed.
Evaluating data from an international registry of COVID-19 patients with dermatologic symptoms, researchers found that retiform purpura rashes are linked to severe COVID-19, with 100% of these patients requiring hospitalization and 82% experiencing acute respiratory distress syndrome (ARDS).
Meanwhile, pernio/chilblains rashes, dubbed "COVID toes," are associated with milder disease and a 16% hospitalization rate. For all COVID-related skin symptoms, the average duration is 12 days.
"The skin is another organ system that we didn't know could have long COVID" effects, said principal investigator Esther Freeman, MD, PhD, from Massachusetts General Hospital and Harvard Medical School in Boston.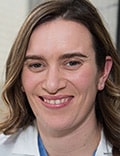 "The skin is really a window into how the body is working overall, so the fact that we could visually see persistent inflammation in long-hauler patients is particularly fascinating and gives us a chance to explore what's going on," Freeman told Medscape Medical News. "It certainly makes sense to me, knowing what we know about other organ systems, that there might be some long-lasting inflammation" in the skin as well.
The study is a result of the collaboration between the American Academy of Dermatology and the International League of Dermatological Societies, the international registry launched this past April. While the study included provider-supplied data from 990 cases spanning 39 countries, the registry now encompasses more than 1000 patients from 41 countries, Freeman noted.
Freeman presented the data at the virtual 29th European Academy of Dermatology and Venereology (EADV) Congress.
Many studies have reported dermatologic effects of COVID-19 infection, she said, but information was lacking about duration. The registry represents the largest dataset to date detailing these persistent skin symptoms and offers insight about how COVID-19 can affect many different organ systems even after patients recover from acute infection, Freeman said.
Eight different types of skin rashes were noted in the study group, of which 303 were lab-confirmed or suspected COVID-19 patients with skin symptoms. Of those, 224 total cases and 90 lab-confirmed cases included information on how long skin symptoms lasted. Lab tests for SARS-CoV-2 included PCR and serum antibody assays.
Freeman and her team defined "long haulers" as patients with dermatologic symptoms of COVID-19 lasting 60 days or longer. These "outliers" are likely more prevalent than the registry suggests, she said, since not all providers initially reporting skin symptoms in patients updated that information over time.
"It's important to understand that the registry is probably significantly underreporting the duration of symptoms and number of long-hauler patients," she explained. "A registry is often a glimpse into a moment in time to these patients. To combat that, we followed up by email twice with providers to ask if patients' symptoms were still ongoing or completed."
Results showed a wide spectrum in average duration of symptoms among lab-confirmed
…
Read more