Ask Wirecutter, an advice column written by Annemarie Conte, explores the best approaches to buying, using, and maintaining stuff. Email your biggest product-related problems to [email protected]
---
Dear Wirecutter,
Is there a small, attractive wearable fitness tracker that counts steps (and maybe heart rate) but doesn't track my data, share it, and profit from my personal details? I don't need to plot my menstrual cycle, monitor my sleep cycle, connect with a community, or share my progress with the world.
A.E.
---
Dear A.E.,
Taking a daily walk or run offers benefits whether you're shouting your steps from the virtual rooftops or just quietly moving throughout your day. It's reasonable to not want your health data broadcast to the world or used for marketing purposes, which is why we're careful in our guide to the best fitness trackers to be clear about the data-sharing policies of the companies whose models we recommend.
You're essentially asking for something that is completely closed-loop and attractive. (As with step stools, I'm just going to say that beauty is in the eye of the beholder and leave it at that.) We have a few options for you.
A fitness tracker with no data sharing
The parameters you outline in your question describe a simple pedometer. Most pedometers cost in the $20 range and don't have any of the connected features of other fitness trackers. We haven't had an official pedometer pick in the past, but Ingrid Skjong, a Wirecutter senior staff writer and co-author of our fitness-tracker guide, uses the Omron HJ325 Alvita Ultimate Pedometer to check the accuracy of the step counters in our fitness-tracker picks. Unfortunately, I couldn't find Omron pedometers in stock, and when I reached out to Omron, a representative confirmed that (breaking news!) "Omron is exiting the pedometer market."
That is a highly unsatisfying conclusion. So we did what we do best: test products. Ingrid compared four pedometers: the 3DActive 3DFitBud Simple Step Counter, the iGank Simple Walking Pedometer, the Ozo Fitness SC 3D Digital Pedometer, and the Pingko PK-793. She put them through their paces against one another and her Omron Alvita (which she used as the control unit), as well as the Fitbit MobileTrack app. Along with noting the ease of both setup and use, Ingrid wore the pedometers all day on three separate occasions and took them for a spin around a 1.4-mile measured park loop.
The easy-to-use Ozo Fitness SC 3D Digital Pedometer outperformed the other pedometers Ingrid tested, particularly in step-count accuracy. You can custom-set your stride length for increased accuracy, and it measures daily steps, distance traveled, estimated calories burned, and minutes of movement. It also offers a 30-day activity log organized by date, as well as a separate running tally of all the metrics it has measured since its first use. "That allows you to take a big-picture look at your movement," says Ingrid, "which can help reveal useful patterns."
The Ozo pedometer strayed no more than 165 steps from the control in our all-day step-count assessments (its closest margin was 31 steps). On our park-loop jaunt, it overshot the control step count by just nine steps. It undercut the distance by a bit more than a tenth of a mile. For comparison, the Pingko PK-793 pedometer, the only other model in the test pool that measured distance, overshot the distance by the same amount. Discrepancies like this aren't unusual and are a reminder that the data gathered from any device is best viewed as a guide, not an absolute.
If you want something simpler, the ultra-spartan 3DActive 3DFitBud Simple Step Counter measures only steps and did well in our tests. It requires a manual reset each day, unlike the Ozo, which automatically reboots.
We've added more detailed information on our testing and conclusions to our guide to the best fitness trackers.
Maintaining data privacy within one ecosystem
If you have a smartphone, you are certainly being tracked to some degree through third-party apps, your cell phone service, and whoever made your phone. "Your smartphone is likely always with you already, and has a pedometer built into it that you might have even enabled ages ago and forgotten about. If the pedometer is accurate enough for you, keeping your data on a device that's already with you (and that already collects all sorts of data) at least narrows your exposure to third parties," says Thorin Klosowski, Wirecutter's editor of privacy and security coverage. If you want to turn on step tracking on your phone, apps such as Google Fit and Apple Health can count your steps for you. Both options feed that data to big tech companies, obviously, but managing a wealth of privacy settings on one device is generally easier than doing so on several.
Although we recommend the Apple Watch SE as our also-great fitness tracker, Wirecutter's Nick Guy said in answering your question, this is one of the few cases where he would recommend the Apple Watch Series 3. "If you think you might want to track more than just your steps—other fitness activities or even swimming—the cheapest Apple Watch will get the job done," said Nick. "You don't have to have notifications turned on if you don't want, so it can be as 'dumb' as you'd like."
The watch currently retails for about $200 but often goes on sale for $170 or less. "We've tracked deal pricing between $130 and $150 during Black Friday sales, and Walmart even had a short-lived sale at $110 around Thanksgiving of last year," says Wirecutter Deals senior editor Nathan Burrow. "Older Apple products, if they're still viable, can be a great way to save."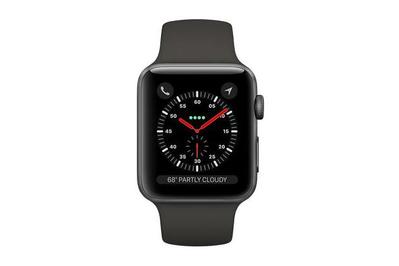 Apple Watch Series 3
Although we don't generally recommend this model, the cheapest of the Apple Watches, it does make for a solid fitness tracker.
Smart devices that you can make a little dumber
We've heard that some people use the Wyze Band but turn off the data. We don't recommend that tracker because it "grossly overestimated our daily step counts and performed at the bottom of the pack in our heart-rate testing," according to our guide (you can read more about it in the Competition section).
However, we do recommend the Garmin Vívoactive 4S, and "Garmin allows you to opt out of its cloud uploads, but you'll lose a lot of the features that make a fitness tracker useful, like historical data," says Thorin. If you do opt in, though, Garmin's privacy practices are transparent and give you a lot of control over what, if any, data is visible to anyone but yourself. There's also no rule that you have to use your real name (or other personal information) in the connected app, which might make it harder for other parties to link together any data collected about you.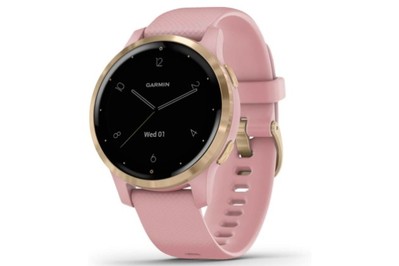 Garmin Vívoactive 4S
Winning points for accuracy and wearability, the Garmin Vívoactive 4S combines the best of sport and everyday wear for those who lead a workout-fueled life. It's also a step closer to a GPS running watch than the Fitbit trackers we recommend.
This article was edited by Jason Chen.