Tag: Joe
CLOSE
President Trump chastised Joe Biden for regularly wearing a face mask during the first presidential debate.
USA TODAY
WASHINGTON – As President Donald Trump questioned the efficacy of mask wearing during a town hall Thursday night, Democratic challenger Joe Biden was doubling down. 
Literally, as Biden likes to say.
The former vice president said he arrived at the National Constitution Center in Philadelphia for his separate town hall with an N95 mask under the blue surgical mask that he wore onto the stage.
"I walked in here with this mask, but I have one of the N95 masks underneath it. And I left it in the dressing room, the room I was in before I got here," Biden said when talking about the importance of masks to stop the spread of COVID-19 – and the importance of modeling good behavior. 
"When a president doesn't wear a mask, or makes fun of folks, like me, when I was wearing a mask for a long time, then people say, well, it mustn't be that important," Biden said on ABC.
Democratic presidential candidate former Vice President Joe Biden wears two face masks as he arrives at Fort Lauderdale-Hollywood International Airport, in Fort Lauderdale, Fla., Tuesday Oct. 13, 2020. (Photo: Carolyn Kaster, AP)
Photographs show Biden has worn double masks at other times on the campaign trail, including when he got off his plane in Fort Lauderdale Tuesday and when he boarded a plane to Michigan Friday.
A member of the charter aviation company that was on Tuesday's flight later tested positive for COVID-19. The campaign said Thursday that Biden didn't need to quarantine because he was never in close contact with the staffer. Biden wore his N95 mask throughout the flight, according to the campaign.
Biden's campaign did not respond to a request for comment on why he wears two masks and when he started the practice.
Dr. William Schaffner, a professor and infectious disease expert at the Vanderbilt University School of Medicine in Nashville, Tennessee, said he's not aware of any recommendation, or medical study, about wearing a surgical mask over an N95.
"It's a practice with which I'm not familiar," he said. "I don't know that the surgical mask adds anything."
Worn properly, an N95 is "extremely effective" at preventing the mask wearer from both getting and spreading a virus, he said.
A second mask, Schaffner speculated, might be worn out of an abundance of caution and to "give the visual cue that they're taking mask wearing seriously."
"But certainly we don't do that in the health care setting," he added.
Dr. Sonja Rasmussen, a professor of pediatrics and epidemiology at the University of Florida College of Medicine and College of Public Health and Health Professions, said a surgical mask can
…
Sean Hannity has attacked Joe Biden's mental fitness just two weeks after Tucker Carlson said that this tactic was a "mistake" and would not help Donald Trump beat Joe Biden in the election.
Hannity laid into Biden on his Monday night Fox News broadcast for briefly forgetting Sen. Mitt Romney's name as well as for a recent incident where Biden mistakingly said he was running for senate, not president.
"Maybe somebody on the staff might want to remind the ever forgetful Joe that he is running for president. He's not running for senator," Hannity said. "He keeps forgetting, forgets the day of the week, forgets what office he's running for. He is running for president, not senator. Somebody remind him!"
He went on to say: "He is obviously not capable of leading. He has been hiding the entire campaign, and the corrupt media mob is covering for him."
However, Hannity may have not gotten the memo, as two weeks ago, Carlson said "it was a mistake to spend so much time focusing on Joe Biden's mental decline."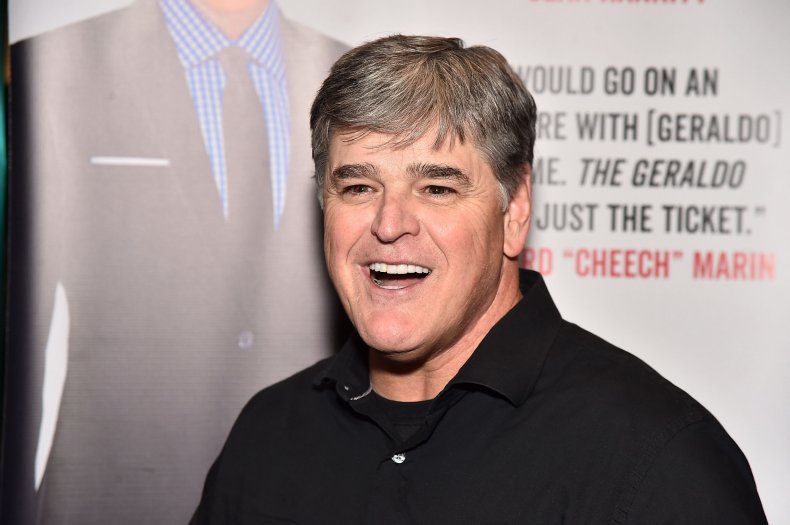 Carlson said the Trump administration's attempts to paint Biden as "senile" or suffering from dementia are the wrong tactic and even conceded that the 77-year-old Democrat came across well at the debate.
"Trump isn't going to win this race by calling Joe Biden senile," Carlson said. "Nor, by the way, is Joe Biden going to win this race by calling Donald Trump a racist, as he repeatedly did last night. That slander didn't work four years ago. It will not work now. Because personal attacks rarely work, they rarely determine election outcomes. That's obvious if you look at the results, but it's easy to forget it—and many did."
"As a political matter, the main thing we learned last night is that it was a mistake to spend so much time focusing on Joe Biden's mental decline," Carlson said on September 30. "Yes, it's real. Yes, Joe Biden is fading, we've showed you dozens of examples of it for months now.
"But on stage last night, Biden did not seem senile," he continued. "If you tuned in expecting him to forget his own name—and honestly, we did expect that—you may have been surprised by how precise some of his answers were. Not all of them, but enough of them. Trump isn't going to win this race by calling Joe Biden senile."
Another person who seems to have not gotten the memo either is Donald Trump himself.
This morning, the President took aim at his opponent's mental stability once again in a tweet lambasting Biden for mistakingly saying he was running for senate.
…