Tag: farm
New Delhi was blanketed in noxious haze Friday as air pollution levels in parts of the city soared to "severe" levels, hours after US President Donald Trump described the air in the vast nation as "filthy".
Smoke from agricultural burning, vehicle fumes and industrial emissions — combined with cooler temperatures and slow-moving winds that trap pollutants over the city — turns air in the Indian capital into a toxic soup every winter.
The air quality index at Delhi's 36 pollution monitoring sites — which monitors tiny PM2.5 and PM10 particles that get into the bloodstream and vital organs — was between 282 and 446, pushing levels into the "severe" category, the Central Pollution Control Board said.
The "good" category is between 0-50, the government's environmental watchdog added.
A "significant increase in stubble fire count" to 1,213 in Haryana and Punjab states was the highest of this season and made up 17 percent of Delhi's PM2.5 levels, the state-run System of Air Quality Weather Forecasting and Research added Friday.
"Further deterioration of (air quality) is expected for the two days," SAFAR said.
This season's burning started earlier because of advanced sowing and harvesting by farmers amid fears of labour shortages during the coronavirus pandemic, officials said.
The worsening conditions came as Trump complained that action on climate change was unfair to the US.
"Look at China, how filthy it is. Look at Russia, look at India — it's filthy. The air is filthy," Trump said at his presidential debate with Democratic rival Joe Biden.
Scientists warned this year's pollution season would make Delhi's 20 million residents more vulnerable to the coronavirus.
"Air pollution increases the risk of noncommunicable diseases — the same underlying conditions that make people more likely to experience severe illness or death from Covid-19," epidemiologist Sumi Mehta from global non-profit Vital Strategies told AFP.
Healthcare systems, stretched by the pandemic, could be further stressed by more hospitalisations from pollution-related illnesses, researchers added.
"There are serious worries that during winter when higher air pollution levels in any case worsens respiratory illness and increases hospitalisation, the vulnerability to Covid-19 may be further enhanced," Anumita Roy Chowdhury of the Delhi-based Centre for Science and Environment told AFP.
The chief medical officer of Gurugram city near New Delhi, Virender Yadav, told The Times of India Thursday some recovering Covid-19 patients were experiencing a reoccurence of respiratory conditions triggered by the heightened air pollution.
grk-ja/je
In the increasingly hectic and stressful year of 2020, people are seeking calm wherever they can find it — from frolicking through the fields to adopting plants. But now there's another natural way to restore your cortisol levels: cow-hugging.
People in several parts of the world have begun to embrace the alleged wellness trend, which reportedly originated in the Netherlands, where it is known as "koe knuffelen."
According to the BBC, the practice of cuddling cows is supposed to reduce stress in humans by releasing the bonding hormone oxytocin.
Cows are chosen specifically for their warm body temperatures and calm demeanor, the outlet reported.
VIDEOS AND PHOTOS OF 'CUTE' ANIMALS CAN REDUCE STRESS, STUDY CLAIMS
"Cows are very relaxed animals, they don't fight, they don't get in trouble," a farm owner who promotes the practice told BBC. "You come to the fields and we have some special hugging cows and you can lay next to [them] — people think it's very relaxing."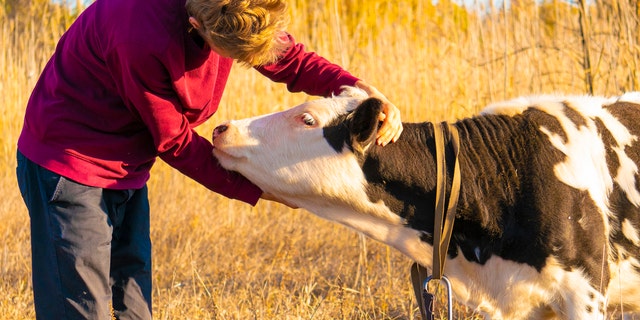 PET OWNER DRILLS HOLES IN FENCE SO 2 DOGS CAN SEE THROUGH
Farms in the United States and Switzerland have also adopted the wellness fad, which, according to a 2007 study in the Applied Animal Behavior Science journal, also benefits the cows.
The researchers found when the animals are rubbed, massaged or pet, they experience relaxation and pleasure as well.
"This suggests that cows may in part perceive human stroking of body regions often-licked similarly to social licking," the researchers write in their study.
CLICK HERE TO SIGN UP FOR OUR LIFESTYLE NEWSLETTER
Though, if you're not near a farm, petting smaller domestic animals has also been shown to lower blood pressure in humans and provide relaxation effects.