Tag: club
One of the UK's leading leisure groups is inviting locals to shape a new state of the art health and fitness club in Midlothian.
Tuesday, 20th October 2020, 4:45 pm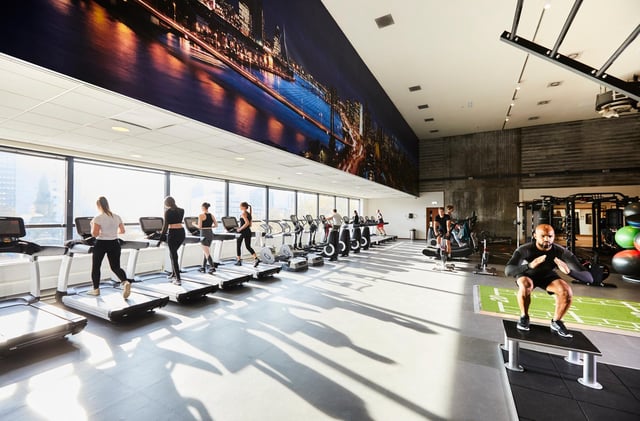 David Lloyd Leisure will allow members of the public to have their say in shaping the new facility if the council approve the application.
The plans hope to bring a range of premium family-focused health and leisure facilities to the the site between Edinburgh and Dalkeith.
The proposed facilities include a health and fitness club with three badminton-court sports hall, a large state of the art gym with several group-exercise studios for various uses such as group cycling, HIIT training and mind and body exercise.
Both a permanent and a seasonal tennis court are suggested, as well as indoor and outdoor swimming pools, terrace and luxury indoor spa with spa garden.
The facility will include a health and fitness club with three badminton-court sports hall, a large state of the art gym with several group-exercise studios.
The plans also include a clubroom which aims to attract families, couples and individual users. An adults only business hub for flexible working, and a soft play and activity space for children are also suggested.
A Proposal of Application Notice (PAN) was submitted to Midlothian Council in September, highlighting the intent of the developer to lodge a planning application this year.
David Lloyd noted that if the plans are approved, there will be nearly 250 car parking spaces with EV charging points as well as covered cycle spaces and various landscaping features.
Sandy Smith, development director at Buccleuch Property, owners of Shawfair Park said: "As a long-term investor in Shawfair and Midlothian we are very pleased to be working with David Lloyd Leisure in bringing these proposals forward.
"David Lloyd Leisure's family-focused offering will be a fantastic addition to Shawfair Park and a valuable amenity to local residents and businesses who will be able to play tennis, swim and lead a healthy life-style with-in easy reach of their front doors."
Brendan Mitchell, group acquisitions manager for David Lloyd said: "We are delighted to be providing the local community with the opportunity to shape our proposals for this exciting new health, leisure and fitness club in Midlothian.
"Clearly these are difficult times, and we're pleased to offer an exciting vision to help people maintain physical and
…
LOS ANGELES (CN) — A federal judge indicated Monday she's likely to advance a wrongful death lawsuit filed against a Los Angeles Police Department officer, saying a jury should determine whether police were justified in killing a Black man who attorneys say was unarmed and posing no threat to anyone.
Police entered a 24 Hour Fitness in Hollywood on the morning of Oct. 29, 2018, after reports of a man causing a disturbance inside the gym.
Once inside, LAPD officers Edward Agdeppa and Perla Rodriguez found Albert Ramon Dorsey standing naked in the locker room and drying himself off. 
The facts surrounding the subsequent events that resulted in the fatal police shooting of Dorsey are heavily disputed. 
Paulette Smith, Dorsey's mother, said in her 2019 lawsuit against the city of LA and Agdeppa that officers began assaulting and battering Dorsey immediately after attempting to unjustifiably detain him.
Dorsey was unarmed and posed no threat that would justify Agdeppa firing the bullets that killed Dorsey, according to the lawsuit, which sought funeral and burial expenses and punitive damages determined by a jury.
Responding to the lawsuit, Agdeppa's attorneys filed for summary judgment, arguing that Smith's claims were precluded as a matter of law because Dorsey assaulted gym employees and fought with police after refusing their verbal commands to leave the gym.
Dorsey pinned officer Rodriguez to the ground and struck her multiple times, forcing Agdeppa to use "lethal force in an effort to save his partner's life," attorneys said in the summary judgment motion.
"While the taking of a life is never preferred, there are circumstances where such drastic measures are necessary to protect the lives of others — this is such a situation," the motion said. 
The LA Police Commission, an appointed civilian oversight panel, determined in September 2019 that the shooting violated LAPD policy. The finding contradicted the assessment of the case by LA Police Chief Michel Moore.
Commissioners said the officers should have deescalated the situation or not have confronted Dorsey on their own to begin with.
Despite the commission's finding, a July report by LA County District Attorney Jackie Lacey determined Agdeppa's actions were lawful and that the shooting was in self-defense.
Lacey's report noted Agdeppa suffered a concussion and a laceration to the bridge of his nose and that Rodriguez had swelling on the left side of her face.
Dorsey was found with Rodriguez's Taser in his left hand and a handcuff on his right wrist, the report said.
In a telephonic hearing Monday, U.S. District Judge Christina A. Snyder heard arguments on whether the facts established so far entitle Agdeppa and the city of LA to judgment as a matter of law. Granting Agdeppa's motion would strip a jury of its role in determining judgment in the case.
Snyder said she's inclined to deny summary judgment because the facts presented so far fail to establish a clear justification for Agdeppa's use
…
A small victory in Miami on Friday could shift the power in favor of businesses who are fighting against local COVID-19 restrictions in South Florida.
Tootsie's strip club in Miami Gardens won in a civil lawsuit against Miami-Dade County, and will be able to stay open past the county's coronavirus curfew, which the judge called "illegal."
The curfew has been in place nearly three months to help curb the spread of the coronavirus. Restaurants were forced to close their dining rooms at midnight, which is when clubs typically open. In a number of cases, establishments such as Tootsie's that stayed open were fined and forced to shut down at midnight.
The situation has been similar in Broward. Earlier this month, nightclub owners demanded answers from Broward Mayor Dale Holness, who said businesses would still have to shut down at 11 p.m. even after Gov. Ron DeSantis allowed South Florida into a Phase 2 reopening.
In Miami-Dade, Judge Beatrice Butchko ruled that Tootsie's can operate all night because of DeSantis' statewide decree, which effectively snatched power from local governments to enforce COVID-19 restrictions on businesses.
DeSantis' order allowed counties and cities to set capacity limits for restaurants, but kept local governments from issuing rules that kept people from working.
"The Miami-Dade curfew orders conflict with [DeSantis' executive order] because they prohibit Tootsie's from operating; they prohibit employees and contractors from working; and they reduce capacity to zero for the entire time subject to the curfew," Butchko wrote in the ruling.
Sports radio host Andy Slater broke the news that Tootsie's won the suit.
Miami-Dade and Broward imposed the curfews in July to crack down on late-night parties in bars, streets and in private homes. The curfews also affected restaurants that had to close their dining rooms early.
Sun Sentinel staff writer Rafael Olmeda contributed to this report.
Brooke Baitinger can be reached at: [email protected], 954-422-0857 or Twitter: @bybbaitinger
———
©2020 the Sun Sentinel (Fort Lauderdale, Fla.)
Visit the Sun Sentinel (Fort Lauderdale, Fla.) at www.sun-sentinel.com
Distributed by Tribune Content Agency, LLC.