Tag: aspirin
Hospitalized coronavirus patients who took daily aspirin for cardiovascular health had a lower death risk than those who did not take aspirin, according to the findings of a new study conducted by researchers with the University of Maryland School of Medicine. 
Patients who took aspirin also had a lower risk of complications, while their chances of requiring admission into the hospital's intensive care unit (ICU) and being ventilated also fell, according to a news release regarding the findings, which were published Wednesday in the journal Anesthesia and Analgesia.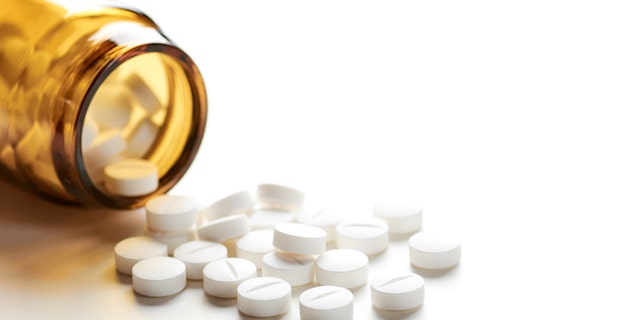 For the study, the team looked at the medical records of some 412 patients who were hospitalized due to complications with COVID-19. The average age of patients was 55. All patients in the study were treated at the University of Maryland Medical Center in Baltimore or three other hospitals along the East Coast, per the release. Any of the patients' preexisting conditions, such as hypertension, diabetes, kidney disease, and others, as well as age, gender, body mass index and race, were all accounted for in the study. 
Roughly a quarter of the patients were taking daily, low-dose aspirin before they were admitted or began taking the drug shortly after they were admitted to the hospital.
CAN MOUTHWASH PROTECT AGAINST CORONAVIRUS? EXPERTS DISCUSS RESULTS OF VIRAL STUDY
Following their analysis, the study authors concluded that those who took aspirin had a 44% reduced chance of requiring ventilation, and a 43% less risk of requiring admission into the ICU. Most importantly, the researchers said, those who took aspirin also had a 47% reduced risk of dying in the hospital compared to those who did not take the drug. 
"The patients in the aspirin group did not experience a significant increase in adverse events such as major bleeding while hospitalized," they added. (Daily use of low-dose aspirin, which is often recommended for those who have previously suffered a heart attack or stroke to prevent future blood clots, can increase the risk "of major bleeding or peptic ulcer disease," the researchers explained.)
The researchers hypothesize that aspirin's blood-thinning effects may have played a role in the positive outcomes for hospitalized patients taking the drug, as COVID-19 infections "increase the risk of dangerous blood clots that can form in the heart, lungs, blood vessels and other organs. Complications from blood clots can, in rare cases, cause heart attacks, strokes and multiple organ failure as well as death," they said. 
CORONAVIRUS CASES LINKED TO LIVE MUSIC EVENT AT VIRGINIA RESTAURANT, ATTENDEES ASKED TO SELF-QUARANTINE
"This is a critical finding that needs to be confirmed through a randomized clinical trial," said study leader Dr. Jonathan Chow, an assistant professor of anesthesiology at the University of Maryland School of Medicine, in a statement. "If our finding is confirmed, it would make aspirin the first widely available, over-the-counter medication to reduce mortality in COVID-19 patients."
15
…
CLOSE
The WHO initially recommended using acetaminophen instead of ibuprofen to treat coronavirus symptoms, but they have now said otherwise.
USA TODAY
Some of the most commonly used pain and fever medications could be harmful to pregnant women and their unborn babies, the U.S. Food and Drug Administration announced Thursday. 
The agency is requiring labeling changes for non-steroidal anti-inflammatory drugs (NSAIDs) to explain that if women take these medications at about 20 weeks or later into their pregnancy, they can cause fetal kidney problems.
NSAIDs include both prescription and over-the-counter drugs such as ibuprofen and naproxen, commonly known by the brand names Advil and Aleve. It also includes diclofenac, celecoxib and aspirin above 81 mg. 
According to the FDA, these medications work by blocking the production of a certain chemical in the body that causes inflammation.
"It is important that women understand the benefits and risks of the medications they may take over the course of their pregnancy," said Dr. Patrizia Cavazzoni, acting director of the FDA's Center for Drug Evaluation and Research.
Fetal kidney problems can lead to other pregnancy-related complications as the kidneys are responsible for producing amniotic fluid, the protective cushion surrounding the baby.
Fetuses produce the most amniotic fluid beginning about 20 weeks after conception, and kidneys damaged by NSIADs could result in low levels of amniotic fluid, reducing a baby's protection inside the mother's womb. 
Dr. Jennifer Wu, an obstetrician and gynecologist at Lenox Hill Hospital in New York City, said low levels of amniotic fluid also could cause problems with the baby's development. 
Pregnant women with COVID-19: Sick moms don't need to separate from their newborn after birth, study suggests
Doctors can detect a decrease in amniotic fluid levels as soon as two days after taking these medications, the FDA said, but levels usually return to normal after a pregnant women stops taking them.
The agency recommends pregnant women avoid NSAIDs after 20 weeks and opt for other medicine to treat pain and fever during pregnancy, such as acetaminophen.
Wu said taking ibuprofen and other NSIADs in the third trimester also could cause heart problems in the baby. 
"When you're pregnant, your baby is exposed to every medication you're taking," Wu said. "So, you need to be careful and check with your health care provider before taking any medications, including over the counter medications." 
Follow Adrianna Rodriguez on Twitter: @AdriannaUSAT. 
Health and patient safety coverage at USA TODAY is made possible in part by a grant from the Masimo Foundation for Ethics, Innovation and Competition in Healthcare. The Masimo Foundation does not provide editorial input.
Read or Share this story: https://www.usatoday.com/story/news/health/2020/10/16/fda-ibuprofen-some-aspirin-unsafe-pregnant-women-20-weeks/3676364001/