Tag: alleged
A Texas grand jury charged Paul Kruse, Blue Bell Creameries' former CEO and president, was charged with wire fraud and conspiracy in connection with an alleged cover-up of the company's 2015 listeria outbreak, the Department of Justice announced on Wednesday.


© Jamie Squire/Getty Images
OVERLAND PARK, KS – APRIL 21: Blue Bell Ice Cream is seen on shelves of an Overland Park grocery store prior to being removed on April 21, 2015 in Overland Park, Kansas. Blue Bell Creameries recalled all products following a Listeria contamination. (Photo by Jamie Squire/Getty Images)


Kruse, who served as the company's CEO and president from 2004 to 2017, was charged with seven counts of wire fraud and conspiracy for an alleged scheme to cover up what the company knew about the listeria contamination in Blue Bell products, according to the Department of Justice.
Load Error
"We firmly believe the charges will be dismissed because they are untimely," said Chris Flood, who represents Kruse. "We look forward to a jury hearing what really happened in 2015 and Blue Bell's response to the unfortunate events."
Blue Bell said it would be inappropriate for the company to comment on Kruse's legal situation since he is no longer with the company.
According to the indictment, Kruse allegedly directed employees to remove potentially contaminated products from store freezers without notifying retailers or consumers of the real reason. Kruse instructed employees to tell customers who asked about the removed items that there was an "unspecified issue with a manufacturing machine," the indictment alleges.
Blue Bell did not issue an immediate recall of the products nor did the company inform customers about the listeria contamination, according to the indictment.
"US consumers rely on food producers and suppliers to ensure the safety of the nation's food supply.The charges announced today show that if an individual violates food safety rules or conceals relevant information, we will seek to hold them accountable," said Judy McMeekin, associate commissioner for regulatory affairs at the Food and Drug Administration, in a news release."We will continue to investigate and bring to justice those who jeopardize public health."
The ice cream was linked to 10 listeria cases in four states and resulted in three deaths in Kansas. In May, the company pleaded guilty to two misdemeanors for distributing adulterated food products and agreed to pay $19.3 million in fines for shipping contaminated ice cream during the 2015 listeria outbreak. The company shut down all its plants in 2015 cleanings and updates, according to the news release.
Listeriosis is a potentially fatal infection caused by the germ listeria, which is found in soil, water, raw milk and some animals like poultry and cattle. Unlike many other germs, it can grow in the cold temperature of a refrigerator or in a food processing plant.
– Shannon Liao contributed to this report
Continue Reading

A clarinetist claims she could literally lose face after an allegedly botched procedure by a Manhattan dentist.
Boja Kragulj, who has performed in orchestras in Philadelphia and New York, claims in a $10 million lawsuit that her face could "prematurely age" because of "irreversible" bone loss from the work of Martha Cortes.
Facing the prospect of double jaw surgery after lifelong dental and breathing problems, Kragulj turned to Cortes in 2013 for an alternative. The dentist, who has an office on Central Park South, treated Kragulj unsuccessfully for years before placing a device called an Anterior Growth Guided Appliance, or AGGA, and controlled arch braces, in the musician's mouth.
The AGGA was supposed to be a substitute for jaw surgery by stimulating new bone growth, helping to move Kragulj's teeth and jaw forward and improve her airway. Instead, Kragulj claims in court papers, the device left her in worse shape than before.
AGGA is "unproven [and] not supported by medical knowledge or science," according to the lawsuit.
Now Kragulj could lose four to six front teeth, and, over time "vertical dimension" — the space between her nose and chin — leading to the early aging of her face, she alleges.
Cortes should have known the AGGA wouldn't work as advertised and failed to immediately repair it when part of it broke, according to Kragulj's Manhattan Supreme Court lawsuit.
It's unclear how the dental disaster impacted the musical career of Kragulj, who is suing Cortes along with others.
Cortes did not respond to a message.
In the increasingly hectic and stressful year of 2020, people are seeking calm wherever they can find it — from frolicking through the fields to adopting plants. But now there's another natural way to restore your cortisol levels: cow-hugging.
People in several parts of the world have begun to embrace the alleged wellness trend, which reportedly originated in the Netherlands, where it is known as "koe knuffelen."
According to the BBC, the practice of cuddling cows is supposed to reduce stress in humans by releasing the bonding hormone oxytocin.
Cows are chosen specifically for their warm body temperatures and calm demeanor, the outlet reported.
VIDEOS AND PHOTOS OF 'CUTE' ANIMALS CAN REDUCE STRESS, STUDY CLAIMS
"Cows are very relaxed animals, they don't fight, they don't get in trouble," a farm owner who promotes the practice told BBC. "You come to the fields and we have some special hugging cows and you can lay next to [them] — people think it's very relaxing."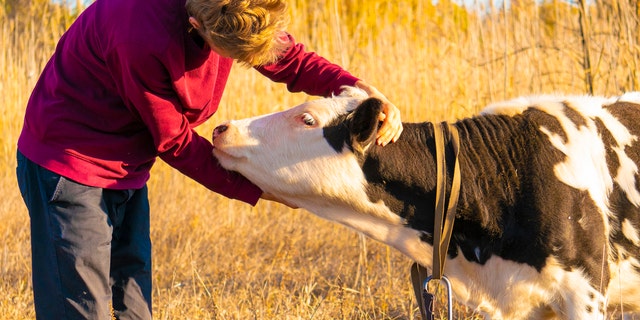 PET OWNER DRILLS HOLES IN FENCE SO 2 DOGS CAN SEE THROUGH
Farms in the United States and Switzerland have also adopted the wellness fad, which, according to a 2007 study in the Applied Animal Behavior Science journal, also benefits the cows.
The researchers found when the animals are rubbed, massaged or pet, they experience relaxation and pleasure as well.
"This suggests that cows may in part perceive human stroking of body regions often-licked similarly to social licking," the researchers write in their study.
CLICK HERE TO SIGN UP FOR OUR LIFESTYLE NEWSLETTER
Though, if you're not near a farm, petting smaller domestic animals has also been shown to lower blood pressure in humans and provide relaxation effects.